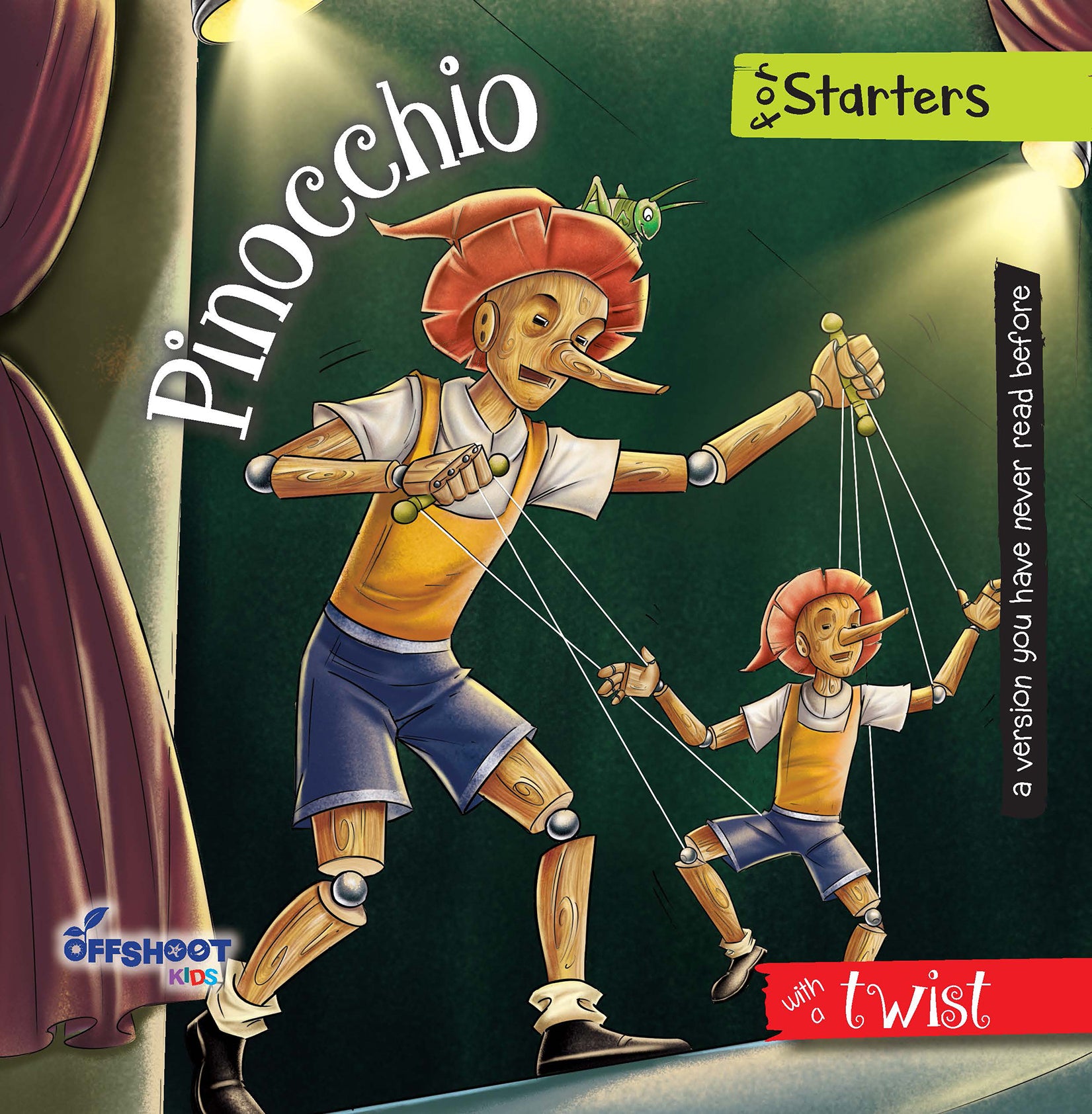 Pinocchio's Story In English - Fairy Tale (Pinocchio Long Nose Story)
| Offshoot Books
'Pinocchio' is an English fairy tale of a little wooden boy that narrates his story of setting out to become a real boy.
While the good ol' magic is retained in Offshoot Books' 'Pinocchio - With a Twist',retells the classic fairy tale sprinkled with contemporary issues that kids face and the strength and values that they would need to uphold their beliefs.
The 'Twist in the Tale' series uses the Cambridge list of words for Starters, Movers, and Flyers to help young readers understand the underlying messages in the words that are appropriate for their age.
Embark on the twisted adventure with Offshoot Books as Pinocchio realises that he is different from the children in his school, he is special!
The detailed illustrations in this storybook breathe life into the book's narration and capture the attention of 8 to 11-year-old readers.
Pictures from 'Pinocchio- With a Twist' storybook
Pinocchio was a little wooden boy who lived with his mother, May. She was really good at making dolls and Pinocchio was one of her creations.
The mother-son duo lived in a tree house where Pinocchio had birds, books, and board games, but no children to play with. His only friend was Jiminy Cricket, a little green cricket that Pinocchio found in the tree house.
His 'uniqueness' caused him to feel like an outcast in school. He used to come back home sad and stayed in bed all day, causing May to wonder.
A eureka moment made him realize that he indeed was different!
Readers from yesteryear know Pinocchio as the marionette of Geppetto. Geppetto was a poor man who wanted to make a living as a puppeteer.
As soon as Geppetto carved Pinocchio from an enchanted piece of wood, he created havoc, ultimately getting Geppetto arrested.
The legend of Pinocchio's nose increasing in length is birthed when he falls into a variety of bad company including that of the Fox and the Cat who try to steal his gold pieces.
Eventually, they trap Pinocchio and hang him in order to rob him. That's when the Fairy with the Azure Hair saves Pinocchio. His nose grew longer every time he lied to the fairy about the gold pieces!
Meet Offshoot's Pinocchio, May, and Jiminy Cricket at Amazon & Flipkart in a version you have never read before! Join them as they navigate their way through unexpected twists and endings all the while keeping up with modern times.
'Pinocchio- With a Twist' by Offshoot Books had you wanting for more classic tales with a twisted ending? We got you! Read about 'Rapunzel- With A Twist' which attempts to break past the formulaic plot and conventional ideas through bold, unanticipated events in the story that creates a twist, bringing forth new ideas and a brand new definition of bravery and sacrifice.