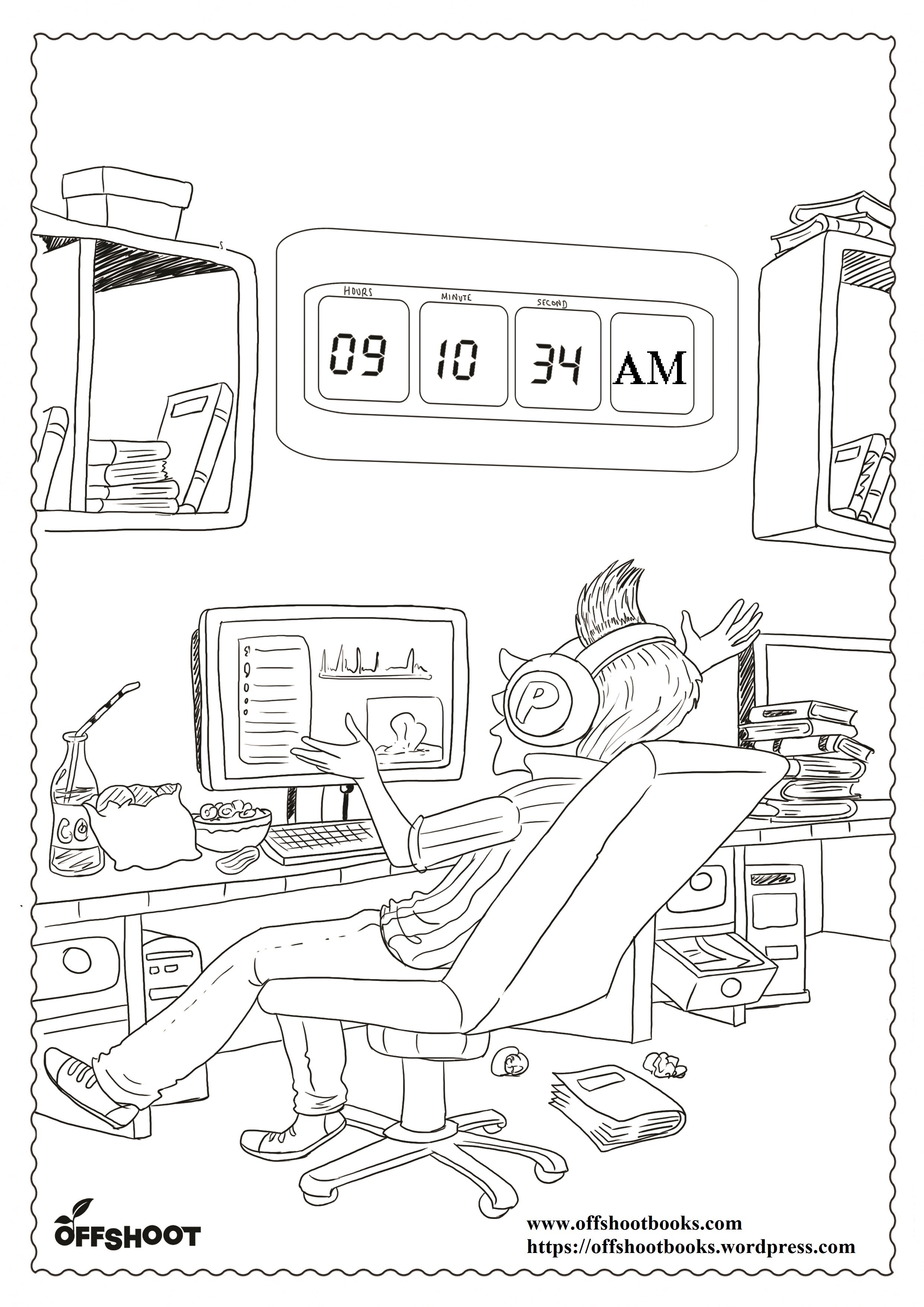 8 Ways To Cope With Monday Blues
| Offshoot Books
Ah! What a weekend! While some party hard, others sleep harder. Let's not forget those who spend their day catching up with long-lost friends over a movie or following the idea of 'shop till you drop'.
As the sun gradually hits the horizon and the day comes to an end, reality dawns upon all. It is already Sunday evening! To our horror Monday is here which means that we'll have to survive another rigorous five-day routine to finally be able to switch on the weekend mode at the end.
We all agree to the fact that Monday is the most boring and sluggish day of the week. We hardly enjoy going to office on Mondays accept, of course, if we are dating someone there and cannot wait to see them after two long days. *Wink* Mondays have their own place in our lives and it is very important to come out of the ever-engulfing feeling of dismay, anger and irritation as soon as possible, especially when we have strict deadlines to meet.
So, we bring to you some of the coolest, easiest and tried-and-tested ways to cope with your Monday blues.
1. Captivating coffee - our survival juice: If you love coffee, it will prove to be your loyal friend that will help you cope with Monday blues. A nice cup of hot coffee is not only delicious, but it can boost your energy to a level that will compel you to jump off your seat and start your day with full zeal. Trust us! A lot can happen over coffee, but a lot more can happen after one. Those deadly deadlines, that pestering project report or the dreadful pile of files waiting for completion. So, make your coffee strong and your Monday short.  
2. Crazy colleagues - our partners-in-crime: It is a general belief that you can't be friends with your colleagues. Cut-throat competition, the game of survival and lack of like-minded people are some of the reasons that we site but if you unite forces against Monday, you will not be at a loss. Your colleagues can be the best people to lend their ear to your pent-up frustration, anger or joy or a shoulder to cry on. Share your weekend stories with them (but, don't brag about it). When you have good colleagues and you share a good rapport with them, then your journey in office becomes easy.
3. Dress-up well - our confidence booster: In office, one is expected to dress in a professional manner and not turn up in casual wear, sporting a bed head that might look cool once you step out. In fact, we take a lot of time to dress well for work not because that's mentioned in the company rules but because dressing up to our best can make us feel more confident which in turn helps us to cope with boredom and lethargy synonymous with Mondays.
4. Comforting food - our survival diet: Food plays a vital role in rejuvenating your mood and energizes you to face and bear Monday blues. If you are a foodie, you have nothing to worry about. The colorful display of palates can make you forget about Mondays in an instant. And, there's nothing better than bonding over food. After all, sharing is caring! The best way to gorge on yummy delicacies is to never take your meal to your desk. Instead, head towards the cafeteria, meet more people and enjoy food and their company and say goodbye to worries.
5. Look for good things in life - our lost treasure: Things may not appear to be fine at work on Mondays, but look for positive things around. If you look carefully you will find many things that have changed and you didn't even have a clue! Your colleagues have become your friends now, your boss no longer remains angry (may be, s/he understands you and is quick to approve your leave requests) and the fact that your firm has been benevolent enough not to show you the door. More than anything, you still have a job that helps you pay your bills and have a decent living. Therefore, when Monday blues are trying to catch you, look forward to the good things in life and be optimistic.
6. Smiling faces - the art of survival: A smile is the ultimate cure for difficult situations and can solve many problems. A smile can automatically lift your mood and it makes you feel better. A smiling face attracts positivity which eventually helps to bring out the best in you. With a smile you can beat Monday blues and go ahead with the day with happy thoughts.  
7. It's just Monday - a reality check: The best way to cope with Monday blues is to realize that it's just another day and will end soon. Take your time to let the feeling sink in and ignore the boredom and stress that the day accompanies. However, don't let your work get affected by this feeling. Continue to work enthusiastically and devote yourself in your daily tasks.
8. Merry music - a soulful escape: Music helps you sooth your senses and allows you to refrain from feeling low on any given day, especially on Mondays. It can be one of the best solutions to revive your energy, make you feel happy and cheerful on a boring Monday. If it is permitted at your workplace and given that you will not be distracted for long from  your work, put on your ear phones and listen to your favorite song to rejuvenate yourself.