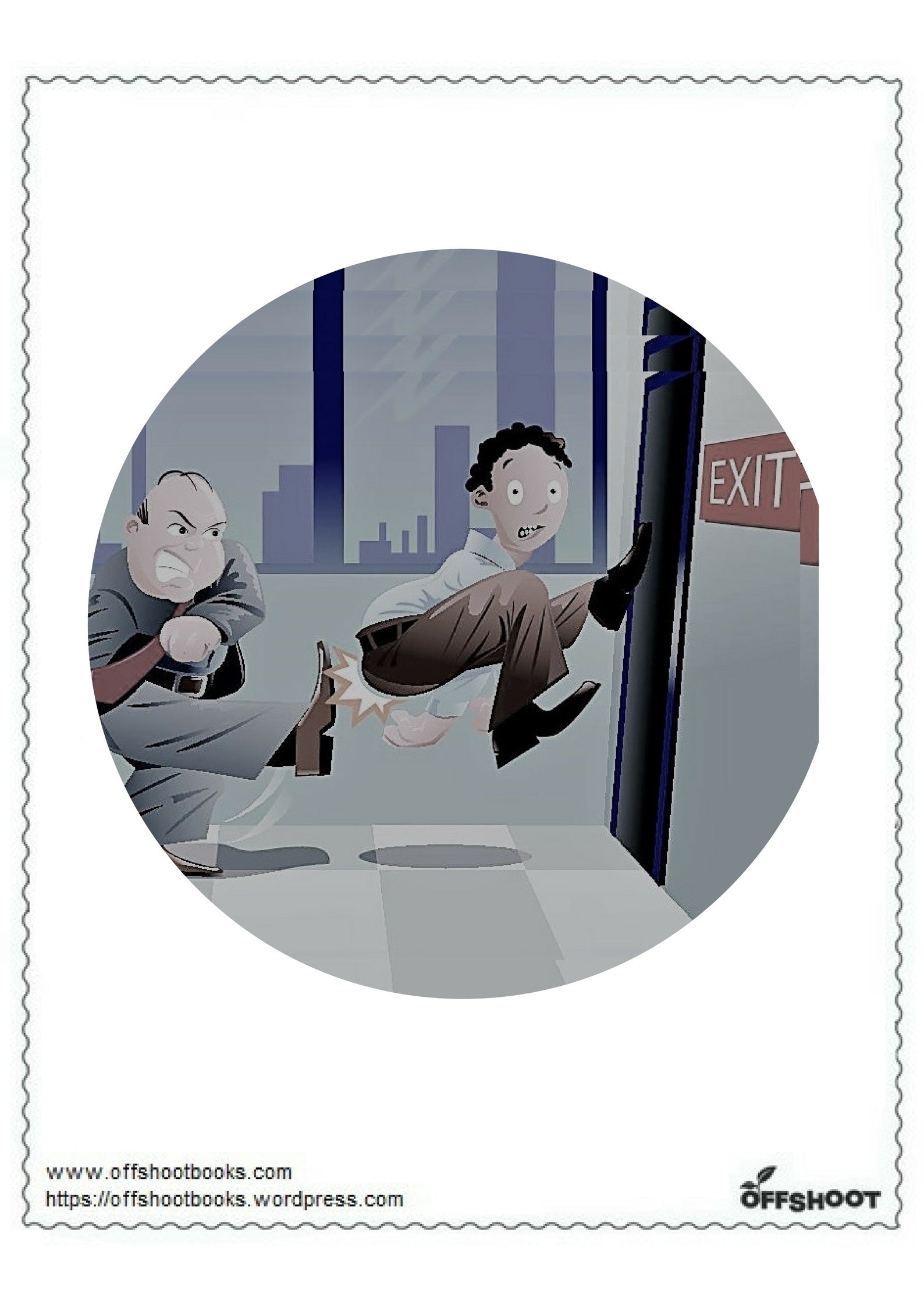 7 Ways To Make A Comeback After Being Sacked
| Offshoot Books
Being sacked from work is a nightmare. It not only leaves you distressed but also makes your mind think about stuff that you'd never given a thought before, such as,
Why is this happening to me?
There's nothing left for me to do.
What will my family and friends say when they learn about the fact?
Am I an embarrassment to my family?
While you sob till your face is left swollen or seek refuge in motivational quotes, you know that you won't be able to make lemonade with those sour-y lemons or wait for 25 other letters in the English alphabet to plan your way out of this woe because you'd never thought of such a misery to befall on you.
So, how does one deal with the situation?
You don't have to look around. We have the answer.
1. Look for another job: Well, duh! We can see you rolling your eyes and preparing to throw this piece in the trash because guess what? you know this is the next step. Still, listen! Looking for another job is the next sensible option. In many instances, we tend to engulf ourselves in grief to an extent that we forget that we have a life ahead of us. It weighs us down and we take decades to recover. Well, not exactly decades but you get the point, right? Cope up with the situation. Cry and scream all you want but pick yourself up and start planning as to how to approach the next opportunity. Don't lose hope over a lost job.
2. Curse all you want: Yes, you've read that right! Researches have shown that abusing is an emotional stress-buster and is, therefore, good for health. After what you've suffered in your previous organization, you are bound to vent your anger and frustration on them (it's another matter altogether if you're fired because of your wrong doings). But here's a tip: curse in your own private space. You would not want the organization to find out that you've been bad-mouthing them. At least, not until you've got another secure job where their say is no longer considered important.
3. Quality family time: We're sure you've been scolded numerous times by your parents for ignoring your duties towards your family. You know that you can't be blamed because your work had taken most of your time which meant your home was more of a place meant for only eating and sleeping. But then, your parents aren't wrong either. So, take this opportunity to spend quality time with your family or as they say 'make lemonades'. Take them out for enjoyment, have dinner together or watch a movie. This will ensure that everyone is happy.
4. Indulge in me-time: Before you start sulking over a lost job, try looking it as an opportunity to be finally being able to indulge in some me-time. Take a week off and go on a backpacking adventure. We know it's easier said than done but start taking baby steps, if you have to. Go to a spa, catch up with your friends, watch a movie, attend fun festivals or try something new. Re-energize yourself and reclaim your social life.
5. Follow a hobby: As kids we've all dreamt of being achievers. While many settled for the cliched, others harbored dreams ranging from amusing to downright weird. Even while growing up, somewhere these dreams took the name of hobby and were left in the sidelines so that we could pursue a career thought to be suitable to survive in the rat race. With a hectic work schedule one did not get the opportunity to pursue this 'dream' which was soon forgotten. This is the time to reclaim your dreams. Paint the town red, go skating, dance to the tunes of music or give in to nature's memories.
6. Start with a startup: If you have an interesting idea and have been inclined towards starting a business of your own, it's your time to follow your dreams. Dig out those business plans that have been submerged under layers of dust/that have not seen the day's light for years. Call out your friends who were keen on joining you and start again. Channelize your energy in the right direction and show others who the real boss is.
7. Education is the key: For those who have been scarred for life by rigorous work schedule and plan on starting afresh can also try continuing with their education. Get a degree in a course of your choice. Relive those moments of ease and contendedness. Learn new skills and venture into the world of business again.
(Warning: The following solutions may appear to be words of stupidity but have been carefully chosen by 'experts' from self-help books, motivational quotes and wise words spoken by BFFs who'd turned into motivational speakers under the influence of inebriated drinks. Trust us, they work. We were able to make 'lemonade' from lemons thrown at us.)